Headlights
November, 2004
I had a few problems with the headlights. First of all the rubber seals are ancient and pretty bad. Second the passenger side headlight was cracked. Finally the drivers side headlight was burned out. I ordered the rubber parts from Stephen Allen Studebaker and Studebaker Parts Online. The local NAPA had a 6V headlight. Finally I found the parking light lens on e-Bay. I ended up buying a lot of headlight bezels but all I really wanted from it was the lens.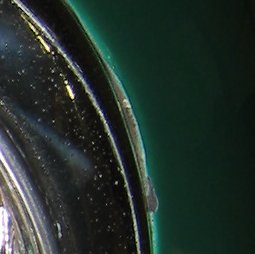 This picture shows a detail from on of the pictures above. When the car was painted the headlights were left on the car and simply masked off. Since the old seals were a bit of a mess there was not a clean and even paint line along the old seals. To make things worse the new seals are not quite as wide as the old ones. As you can see there are a couple of spots where the paint ends before the seal begins.
I do have some of the paint used to paint the car but it is 18 years old and no longer useful. I might try to get some touch-up paint mixed for it but it will never be an exact match. I just need to relax and deal with it.
You can also see the pitting in the chrome. This can be fixed but it is quite expensive. Good thing this is not a show car.