6/2/2012

I have had these new pedal seals for the clutch and brake pedals sitting around for years. Time to get them installed.
The seals go around the pedal arms and are pushed up against the floorboard by the arm when the pedals are up. In this picure you can see the one remaining seal on the brake pedal. Nothing at all behind the clutch.
There is also this seal that goes around the starter switch (behind the clutch pedal). I don't have this seal so I will have come up with something.
I tried to find some closed-cell foam or something to make a seal but I did not have anything. So I went with an inner tube. Using scissors and a punch I made three identical rings
Then I glued them together. This will work.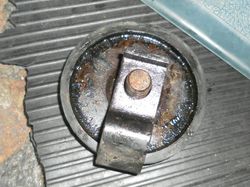 The pedal pads just unscrew. I used a strap wrench. The clutch pad came right off but the brake took some heat to break loose. Here you can see the removed clutch pad and the bracket that pushes the starter swtich when the pedal is fully depressed.
With the pad off the new seal just slides over the pedal arm and gets crammed through the hole.
Like this!
Here is the old seal from the brake pedal. I think this is about done.
All back together with all three seals in place and the new pedal pad installed. I have a new seal for the steering column as well but that will have to wait until I have the steering column loose sometime.