I was taking my neighbor for a ride and the door did not want to latch. The problem was not hard to find.
The latch was badly worn and had been repaired at some point by a carefully shaped strip of metal that was fitted around the worn star wheel and welded together. I could have just tacked it together again but this only ever worked OK, sometimes the door was prone to popping loose. I wanted a better fix.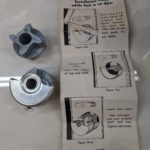 The important detail here is that the bar goes under that spot-welded "bridge" on the inner door skin. So the bar will have to slide out to the right.