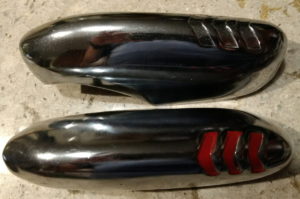 At the Studebaker meet in Mansfield I scored two bumper guards for the rear bumper.  One is used but nice, the other looks to be new.  The chrome is not perfect but plenty good enough for now.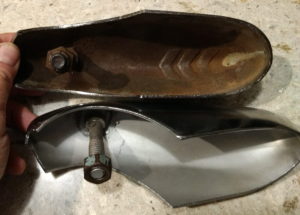 The rustier guard is fine thread (the other three on the car are coarse thread) and the nut is rusted on there.   It took a few cycles of heating with a torch and soaking in penetrating oil but I got it off.  To protect the chrome while I used the torch I filled the guard with water.   Seemed to work but I forgot to take a picture.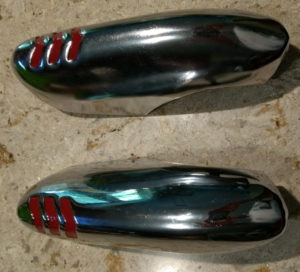 I painted the chevrons and polished the chrome.  I also painted the inside of the rusty guard with silver spray paint.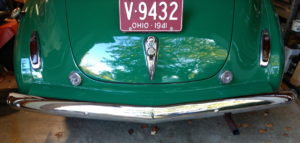 Time to install!
Two bolts later they are done.   It was surprisingly fussy getting them straight and at the same angle.  But it looks good!
At the show I also scored some adjustable wiper arms and new blades.
When I rigged up the wipers I had to adapt the arms I had.  The result was less than reliable.  I basically shaped a small bit of brass to attach to the wiper blade and then screwed it to the arm.  It worked but would move over time.
Here is the new arm above the original arm I was using.  The new arm is adjustable for angle and length.  As it sits now it seems a little too long.
The length adjusts by loosening a set screw in the arm and sliding the arm in and out.  But even at the shortest the arm was too long so I took a file to it.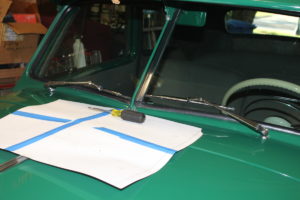 Here is my first attempt to fit the arms. One key is to not push them on all the way during the test fitting.  Otherwise it is too hard to get them off again.   The other key is to keep the motor in the parked position while I screwed with it.
Looks good!  Time for a test run.
I don't use the wipers often and the new arms are stiffer than the old ones but once I got them going they worked well.   I should oil the motor again.