The weather was SO nice that I decided to take care of a couple of little things.  The first is this defroster vent hose.  It has been falling out from under the dash for years.  The hose is fabric soaked with some sort of flexible compound that is not flexible any more.  Plus the canvas is rotten.  The last time it fell it broke in the middle and that is that.  I found that hose above on Amazon.  I found some other hoses that looked more like the original hose but they cost $5-$8 per foot and nobody can see it anyway.  This hose was $9 total.  Sold!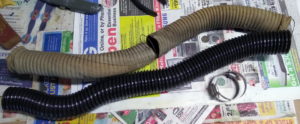 I cut the hose to length.  I could have made it shorter but I have plenty of hose (there is enough there for another car, let me know if you need it!).  I found some hose clamps too.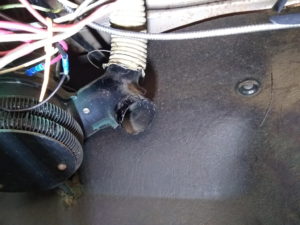 Here is where the hose attaches at the defroster heater core.  The other hose going up is only about 5 inches long and still intact so I am leaving it.  The other end of the new hose goes to the vent over the glove box.
Here is the new hose attached.  It was tight getting it over the pipes.  I think the intention was not to need clamps.  I put the clamps on anyway.  This is not falling down again.
Next job.  The passenger side door check strap on the car is attached with a sheet metal screw stuck in the hole.  Not only is this ugly every once in a while it pops out and causes problems.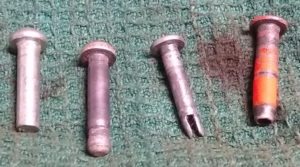 Cleaning up my late father's stuff I found a stash of 4 pins.  I snagged them figuring one would work.
The bit shiny one on the left worked the best.  I put some grease in there and put it together.   I don't think this will pop out but if it looks like it might I will have to do something to hold it in.  For right now it is good.